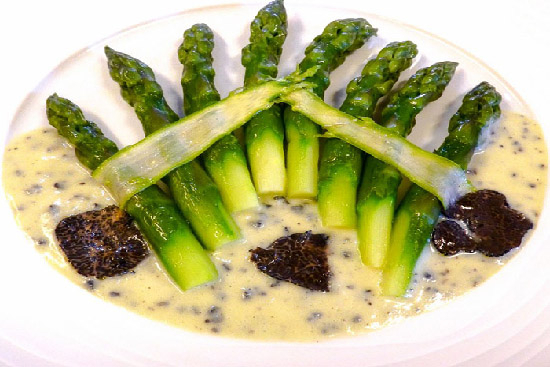 6

8 minutes
Ingredients
1/4 cup chicken stock
1/4 cup peanut oil
2 1/2 ounces chopped black truffles
2 pounds asparagus, trimmed
1 tablespoon unsalted butter, melted
Preparation
In a small bowl, whisk together stock, oil and truffles.
In a deep 10 -to 12-inch skillet bring 3 inches salted water to a boil and cook asparagus until crisp tender, 2 to 4 minutes. Drain asparagus. Pat dry. Transfer to a serving dish and toss with butter.
Spoon truffle broth over asparagus and season with salt and pepper. Serve asparagus warm or at room temperature.