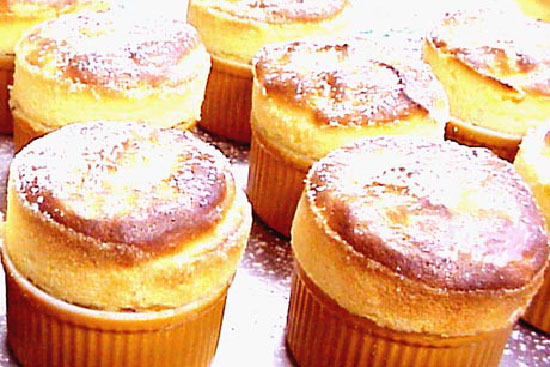 6

15 minutes
Ingredients
1 pound fresh pitted apricot halves
1 cup apricot jam or preserves
1 tablespoon corn starch
1 tablespoon water or Kirsch
6 egg whites
Preparation
Cut apricots in halves. Remove pits.
Slice apricot halves in a heavy bottom saucepan. Add preserves and combine.
Bring to boil over high heat. Reduce heat to medium and simmer apricots until they are tender and take the consistency of preserves. In a small bowl, combine cornstarch and water or Kirsch.
Whisk into the simmering apricot until thickened.
Transfer to a large mixing bowl. Cover with plastic wrap.
Preheat oven to 375 degrees.
Butter and sugar the inside of the soufflé molds. Coat evenly with sugar.
Beat the egg whites with the cream of tartar until fluffy and smooth.
Fold about 1/3 of the egg whites into the apricot mixture. Add the rest of the egg whites to the mixture and fold in with a rubber spatula. Spoon the soufflé mixture in the prepared molds. Fill the molds until heaped.
Smooth the top with a spatula.
Bake for 12 to 15 minutes. Dust with confectioners' sugar. Serve.