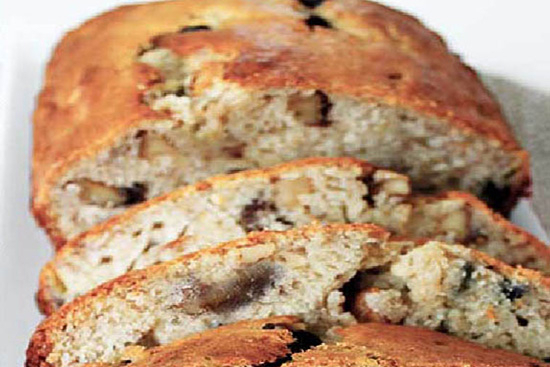 8

1 hour
Ingredients
1/2 cup fresh blueberries
1-1/2 cups sifted flour
2/3 cup sugar
2-1/4 teaspoon baking powder
1/2 teaspoon salt
1/2 cup uncooked oats
2 eggs, beaten
1/3 cup melted shortening
1 cup mashed ripe banana
1 cup chopped nuts
Preparation
Sprinkle 2 teaspoons of flour over the blueberries.
Sift remaining flour with sugar, baking powder and salt. Stir in oats.
Blend eggs, shortening and banana.
Combine with dry ingredients. Stir in nuts. Fold in blueberries. Pour into greased and floured loaf pan.
Bake in 350 degree oven for one hour. Let cool 10 minutes. Remove from pan. Cool before slicing.