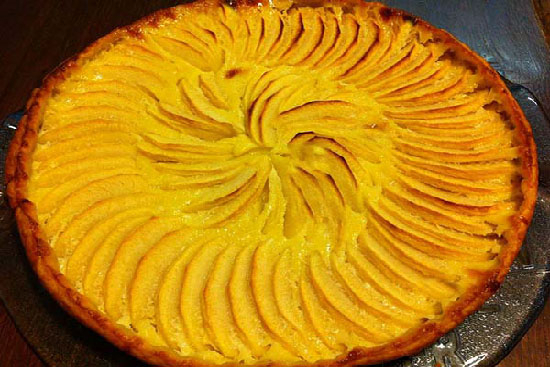 6

45 minutes
Ingredients
For the crust:
4 ounces butter, soft
1 1/2 cups flour
1 teaspoon cornstarch
1/2 teaspoon salt
2 teaspoons sugar
1 egg
2 pounds baking apples

Filling: 1 cup milk
1/2 cup sugar
1 teaspoon flour
1 teaspoon cornstarch
2 eggs
1 teaspoon vanilla
2 teaspoons icing sugar
1/2 teaspoon cinnamon
Preparation
Preheat oven to 375 degrees.
Crust:
Mix butter with flour, cornstarch, salt, sugar, and egg to make a dough.
Roll and line an 9-inch pie plate.
Peel apples. Core,slice into small slivers and arrange in crust. Bake for 20 minutes.
Filling:
In a mixing bowl, combine milk, sugar, flour, cornstarch, eggs, vanilla.
Pour over apples. Continue baking at 350 degrees for 10 to 15 minutes.
Combine icing sugar with cinnamon. Sprinkle over pie. Serve warm or cold.