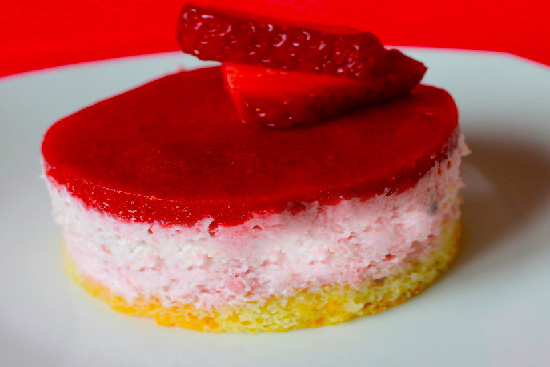 8

40 minutes
Ingredients
almond génoise (see recipe)
For syrup:
1/2 cup sugar
1/4 cup water
1 tablespoon lemon juice

For mousse:
1 1/2 cups hulled and cleaned strawberries
2 teaspoons unflavored gelatin
1/4 cup sugar
2 cups whipping cream
1 cup halved strawberries
1/2 cup currant jelly
Preparation
Prepare almond genoise.
Syrup:
In a medium saucepan, combine syrup ingredients. Heat to dissolve sugar.
Mousse:
Puree strawberries in food processor. Strain through fine sieve to make 1 cup.
Dissolve gelatin in 1/4 cup of the puree. Heat remaining puree with sugar to dissolve. Add gelatin to melt. Let mixture stand until cool but not set.
Whip the cream to form peaks. Fold into strawberry mixture.
Cut the two cakes in halves lengthwise. Line bottom of a 9-inch springform pan with cardboard. Line with 1 cake layer. Brush with syrup. Spread with 1/4 of the mousse. Continue with remaining layers. Decorate top with strawberries.