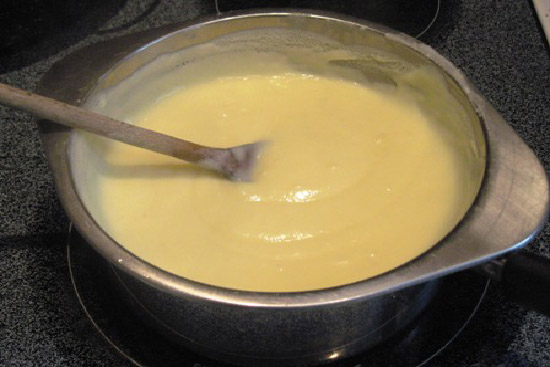 8

8 minutes
Ingredients
6 large egg yolks
2/3 cup sugar
1 teaspoon cornstarch
1 teaspoon vanilla
2 cups hot milk
2 tablespoons dark rum or Grand Marnier


Preparation
In mixing bowl, combine the egg yolks, sugar and cornstarch and whisk with a wire whisk until the mixture turns into a lemon color. Add the vanilla and blend well.
In a saucepan, bring the milk to a boil. Gradually pour over egg mixture while whisking. Transfer to a saucepan, heat and whisk until thick. The custard should not boil.
Pour the custard through a fine strainer into a mixing bowl. Cool to room temperature, stirring occasionally to maintain smoothness.
Add rum or Grand Marnier. Cover and refrigerate until ready to use.