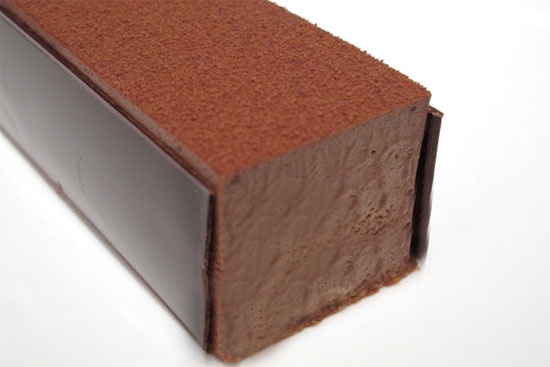 10

10 minutes
Ingredients
16 ounces semi sweet chocolate
4 ounces sugar
1/2 cup water
7 egg yolks
1/4 cup Cognac
1 cup heavy cream

Mocha creme:
8 large egg yolks
3/4 cup sugar
2 cups milk
1 teaspoon espresso instant coffee
1 teaspoon water
1 teaspoon vanilla extract
Preparation
Melt semi sweet chocolate over a double boiler. Combine sugar and water. Boil to 240 degrees.
Beat egg yolks until creamy. Pour hot syrup over yolks while beating continuously at medium speed until cool. Add cognac. Mix.
Whip cream until stiff. Fold cream into egg mixture. Add chocolate and fold thoroughly.
Spoon in a loaf pan with bottom and sides lined with parchment paper.
Cover with plastic wrap and chill for 4 hours or up to 2 days.
Invert on a platter and slice portions onto plate using a warm carving knife. Decorate with fresh fruit and if desired serve with Mocha creme sauce.

Mocha creme:
Beat the egg yolks and sugar until lemony in color. Bring the milk to a gentle boil. Gradually blend into the egg mixture and cook over low heat while stirring constantly with a wooden spoon. The custard should coat the back of a wooden spoon. Do not boil custard as it will curdle.
Strain into a serving bowl. Dissolve coffee in water. Mix coffee and vanilla into custard.stir to cool.
Cover with plastic wrap and refrigerate. May be prepared two days in advance.