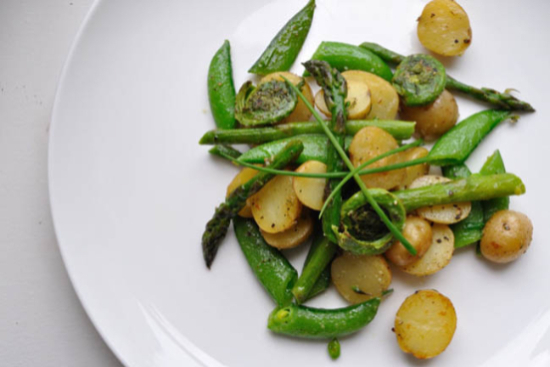 4

40 minutes
Ingredients
12 small red potatoes
Herb steaming liquid ( recipe below)
2 cups trimmed and cleaned fiddleheads
16 asparagus spears, ends snapped off
salt and freshly ground pepper to taste
4 tablespoons Italian parsley, chopped

HERB STEAMING LIQUID

2 cups Chardonnay
1/2 cup water
1 bay leaf
1 teaspoon dried rosemary
2 teaspoons dried thyme
1/2 teaspoon black peppercorns
1 lemon, thinly sliced



Preparation
Place the potatoes in a steamer, cover and steam over herb steaming liquid until tender, about 30 minutes. Add the fiddleheads and steam for 5 to 8 minutes.
Add the asparagus and steam until the fiddleheads and asparagus are crisp-tender, about 4 minutes more.
Divide the vegetables among four plates. Season with salt and pepper, sprinkle with parsley and serve immediately.

HERB STEAMING LIQUID

Combine the wine, water, bay leaf, rosemary, thyme, peppercorns and lemon in the bottom of the desired steaming equipment.
Bring to a boil. Reduce heat and simmer for 1 minute.
Begin steaming. Add boiling water if too much of the liquid evaporates before cooking is complete.
Yield: About three and one-half cups.