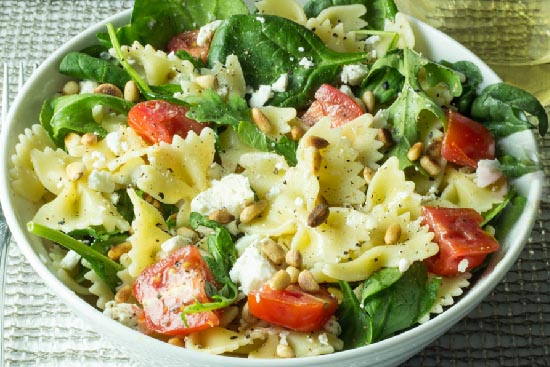 6

10 minutes
Ingredients
6 cups Farfalle pasta
3/4 cup sliced red pepper
4 green onions, sliced
2/3 cup crumbled feta cheese
2/3 cup shredded fresh basil
2 cups lightly packed fresh spinach
8 cherry tomatoes, quartered

Dressing:
1/3 cup olive oil
3 tablespoons white wine vinegar
1 teaspoon Dijon mustard
1/2 teaspoon salt
1/4 teaspoon pepper
1 large clove garlic, minced
Preparation
Cook pasta until firm but tender. Drain and rinse under cold water; drain again very well.
Whisk together oil, vinegar, mustard, salt, pepper and garlic. Add pasta, red pepper, onions, feta cheese and half of the shredded basil; toss gently. Stack spinach leaves and roll up tightly; cut crosswise into thin strips.
Add to salad along with tomatoes and remaining basil; toss gently.