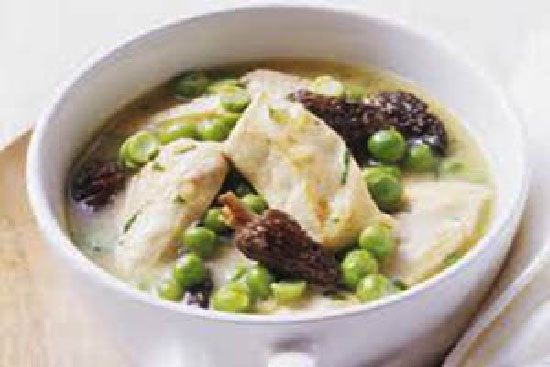 4

40 minutes
Ingredients
1 teaspoon olive oil
2 chicken breasts, split and skinned
4 ounces fresh morels
4 artichokes hearts, each cut in 8 wedges and tossed with lemon juice
2 teaspoons kosher salt
pepper to taste
6 cups chicken broth
1/2 cup peas
Preparation
Preheat oven to 350 degrees.
Heat oil in large skillet over medium heat. Add the chicken and sear until browned on all sides. Place in large baking dish. Surround with morels and artichoke hearts. Season with salt and pepper. Pour enough chicken broth in dish to cover one half of the chicken. Push the morels and artichokes down into the liquid.
Bake until chicken is tender. Add the peas and bake for 5 minutes. Place vegetables around chicken.