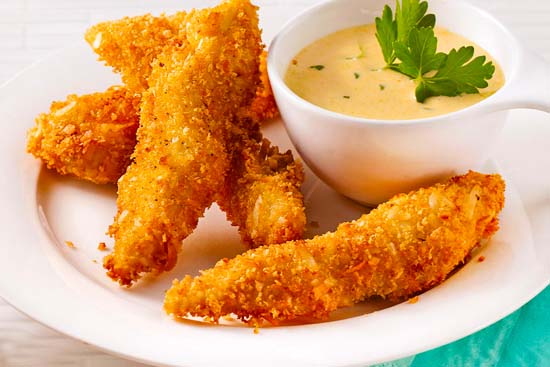 8

5 minutes
Ingredients
8 large chicken breasts
1 teaspoon lemon juice
1 teaspoon seasoned salt
1/2 teaspoon Aromat seasoning
2 teaspoons Dijon mustard
1 teaspoon poultry seasoning
1/4 teaspoon ground black pepper
2 cups flour
5 eggs
3 cups fresh breadcrumbs
oil for frying

Preparation
Skin chicken breasts. Remove breast bone. Cut breast meat into 1 inch wide by 2 to 4 inches long.
In a mixing bowl, combine lemon juice, seasoned salt, Aromat seasoning, Dijon mustard, poultry seasoning, and pepper. Blend seasonings with chicken.
Marinate for an hour or more. Roll chicken pieces in flour. Dip in beaten beaten eggs, and coat with bread crumbs.
Deep fry at 350 degrees for 3 to 5 minutes or until golden brown.