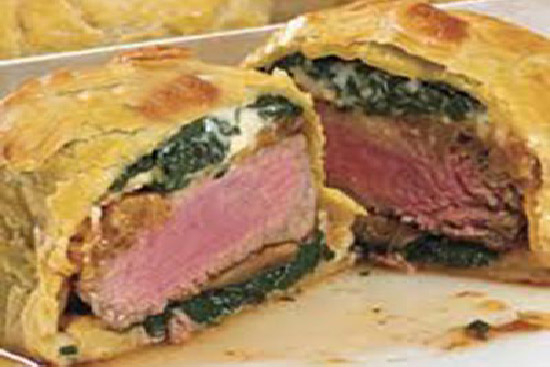 6

40 minutes
Ingredients
3- 1-pound packages frozen puff pastry
Flour for rolling

For the mushrooms:
2 large Portobello mushrooms
3 tablespoons olive oil
2 cloves garlic, minced
1/2 teaspoon fresh thyme, chopped
1/2 teaspoon fresh rosemary, chopped
salt and pepper

For the onions:
3 tablespoons butter
3 medium onions, thinly sliced
1/2 cup red wine
salt and pepper

For the spinach and cheese:
1 cup cooked chopped spinach
6 ounces blue cheese
For the beef:
6- 5 to 6 ounce center-cut beef tenderloins
salt and pepper
1/2 cup olive oil


Preparation
Prepare the pastry and fillings:
The frozen puff pastry usually comes in sheets.
Two in each 1-pound package. Thaw pastry. Unwrap each sheet. Sit a 10-inch round cake pan on pastry.
With a sharp knife, cut out pastry sheets into 10-inch rounds. Lightly score a 4 by 3-inch rectangle in the center of each pastry round. Do not cut through the pastry.
Extend the lines of the rectangle and cut out the corners as shown in sketch.
Use scraps to cut out 12 leaves or other shapes to use as decoration. Layer the pastry rounds between sheets of wax paper.
For the mushrooms:
Slice the portobello into strips. Heat a heavy skillet over high heat. Add oil, garlic, mushrooms, thyme and rosemary.
Stir until mushrooms are brown. Season with salt and pepper. Transfer to a bowl.
For the onions:
Melt butter in a heavy skillet. Add onion and cook over low heat until onion are caramelized, stirring occasionally. Add Sherry wine and cook until pan is dry. Season with salt and pepper.
Set aside to cool.
For the fillets:
Heat a heavy skillet over high heat. Add oil and sear fillets 3 minutes on each side.
Season with salt and pepper. Transfer fillets to a plate. Refrigerate until ready to use.
For the sauce:
Pour 1 cup red wine in skillet. Cook for 5 minutes. Stir a package of brown sauce mix in cold water. Pour in skillet with wine. Whisk until thickened. Set sauce aside.
Assemble the wellingtons:
Preheat oven to 400 degrees. Line the prepared pastries on a work surface.
Spread half of the well drained spinach over center of pastries. Divide blue cheese and well drained onions into six equal portions and spread over spinach.
Top with fillet, mushrooms and remaining spinach. Fold each side panel onto top to seal the content of pastry.
Turn the packages and arrange on a baking sheet seam side down. Decorate with pastry cut outs Brush pastries with a beaten egg.
Bake in for about 20 minutes or until the internal temperature is at 110 degrees. Be sure that the tip of the thermometer is inserted in the center of the package.
Set cooked wellingtons aside no longer than 10 minutes. The sealed fillets continue to cook out of the oven.
Cut each wellington in half. Arrange on warm plates and serve immediately.