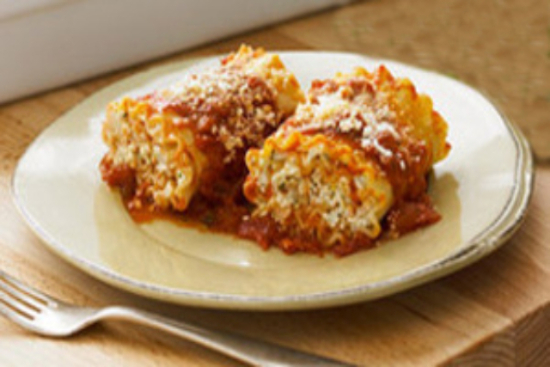 6

25 minutes
Ingredients
2 teaspoons butter
4 medium minced scallions
1/2 cup minced smoked ham
6 ounces soft cream cheese
1/2 cup firm ricotta cheese
1/2 cup grated parmesan
2 eggs
1/2 teaspoon black ground pepper
1-12-inch by 14-inch sheet of pasta
6 thin slices ham
1 1/2 cups marinara sauce
Preparation
Melt butter in a skillet. Add scallions, and cook over low heat until soft. Combine minced ham, three cheeses, eggs, and scallion. Season with pepper.
Lay the sheet of pasta roll on a sheet pan. Spread one half of cheese mixture over surface of pasta roll.
Cover cheese with the sliced ham. Spread remaining cheese over ham. Roll up pasta, jelly roll style.
Do not roll loosely to avoid water seepage while cooking. Roll pasta in cheese cloth.
Tie each end with string. Poach in boiling water for 25 min. Drain, cool.
Remove cheese cloth. Slice into 1 inch slices. Arrange on hot plate. Serve with marinara.