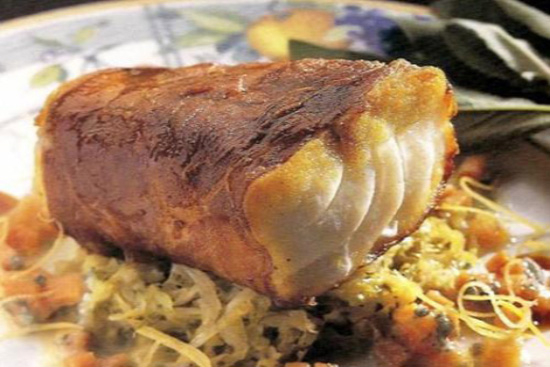 6

25 minutes
Ingredients
6 4 to 5 ounce cod filets
6 fresh sage leaves
6 paper thin slices Parma ham
1/2 head of Savoy cabbage
1 medium onion
3 tablespoons vegetable oil
1 tablespoon ground coriander
to taste, coarse salt and pepper
2 tablespoons chopped fresh parsley
3 tablespoons flour
1 1/2 teaspoons cracked black pepper
1 cup dry white wine
1/2 cup blanched, finely diced carrot
grated zest of one lemon
juice of one lemon
1 cup chicken stock
1 tablespoon butter
1 tablespoon minced fresh sage
Preparation
Pat the cod dry. Place a sage leaf in the center of the top of each piece. Wrap a slice of ham around the fish, leaving sides uncovered, and stick a toothpick into the ham at the point where it meets to hold it in place. Cover and refrigerate until ready to cook.
Wash, dry and core cabbage, keeping it in one piece. Lay the cabbage, cut side down, on a clean, flat work surface. Using a very sharp knife, slice the cabbage lengthwise, into very fine shavings. Set aside. Peel and finely dice onion.
Heat 1 tablespoon of oil in large saute pan over medium heat. Add the onion and saute until slightly brown. Add the cabbage and coriander and toss to coat. Lower heat and saute until just softened. Season to taste with salt and pepper and stir in parsley. Remove from heat. Partially cover and keep warm.
Heat remaining 2 tablespoons oil in non stick pan. Lightly dust fish with flour and cracked pepper. Lay the cod into the pan, top down. Sear for 3 minutes. Turn and sear on other side until just rare in the center. Using a slotted spatula remove to a warm platter.
Place a piece of paper over to keep warm. Add the wine, carrot and lemon zest and juice to the same pan over medium-high heat.
Cook, stirring occasionally until pan is almost dry. Add the stock and butter. Bring to a boil and cook, stirring constantly until slightly thickened. Stir in minced sage and season to taste with salt and pepper. Remove from heat.
Place equal portions of cabbage in the center of each of 6 warm plates. Set a piece of cod in the center of each, carefully removing the toothpick. Return sauce to high heat and quickly bring to a boil. Remove from heat and spoon equal portions over the top of each piece of cod. Serve immediately.