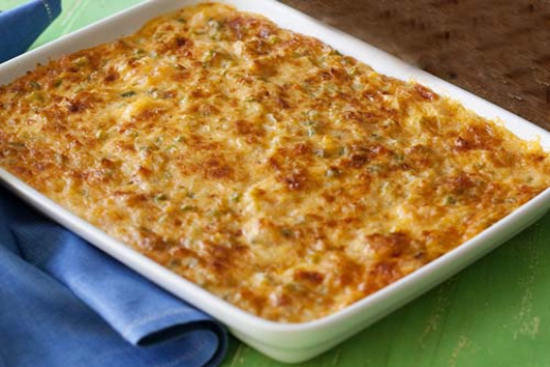 8

1 hour
Ingredients
1 cup white rice
2 cups boiling water
2 tablespoons chopped parsley
1 tablespoon butter
1 medium chopped onion
3 minced garlic cloves
1 large chopped carrot
1 cup chopped fennel or celery
1 tablespoon chopped dill
salt and pepper to taste
1 tablespoon butter
1 pound clean scallops
1 pound cleaned and deveined shrimp
1 pound cooked crabmeat or cooked mussels
2 ounces butter
1/4 cup flour
2 cups milk
1/2 pound cream cheese
1 tablespoon chopped dill
2 tablespoons chopped parsley

Topping:
2 tablespoons bread crumbs
1 tablespoon melted butter.
chopped parsley
Preparation
In a saucepan, combine white rice with salted boiled water.
Cover and simmer 20 minutes. Water should be absorbed. Stir in chopped parsley.
In a skillet, melt butter. Add and Saute chopped onion, minced garlic cloves, large chopped carrot, and chopped fennel or celery until tender. Stir in chopped dill, salt and pepper.
In a skillet, melt butter. Saute clean scallops until opaque. Transfer to a bowl. Saute clean and deveined shrimp until pink.
Add to bowl. Add clean cooked crabmeat to seafood.
In the same skillet, melt butter. Whisk in flour. Stir well. Add milk. Stir till thickened. Whisk in cream cheese, chopped dill, chopped parsley. Add seafood.
Line bottom of greased 13 by 9-inch baking dish with rice. Spoon seafood over. Spoon seafood mix over top.
Topping:
Mix bread crumbs with melted butter. Sprinkle over casserole.
Bake at 350 degrees about 40 minutes until golden brown and heated through. Garnish with chopped parsley.