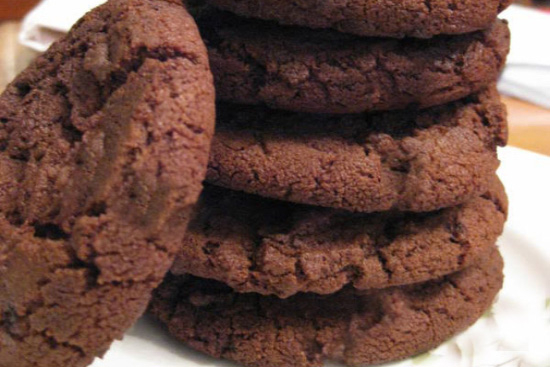 9

18 minutes
Ingredients
1 1/4 cups sifted all-purpose flour
1 teaspoon ground cinnamon
3/4 teaspoon baking soda
1/2 teaspoon baking powder
1/2 teaspoon salt
1/2 teaspoon ground ginger
1/2 cup vegetable shortening
1/2 cup sugar
1/2 cup molasses
2 large eggs, lightly beaten
12 ounces semisweet chocolate chips
1 1/2 cups old-fashioned rolled oats
1 cup chopped walnuts
1 cup raisins


Preparation
Heat oven to 350 degrees.
Sift together flour, cinnamon, baking soda, baking powder, salt, and ginger in a medium bowl.
In the bowl of an electric mixer fitted with the paddle attachment, cream vegetable shortening and sugar on medium speed until light and fluffy, about 2 minutes. Add molasses, and beat to combine. Add eggs, one at a time, and mix until fully incorporated.
Add the flour mixture, one cup at a time, beating on low speed until dough comes together.
Remove bowl from mixer.
Using a wooden spoon, stir in chocolate chips, oats, walnuts, and raisins. Using a 2-inch ice-cream scoop, drop dough on baking sheet, about 3 inches apart.
Bake until firm, 15 to 18 minutes. Cool for 5 minutes before transferring cookies to wire rack to cool completely. Repeat with remaining dough.