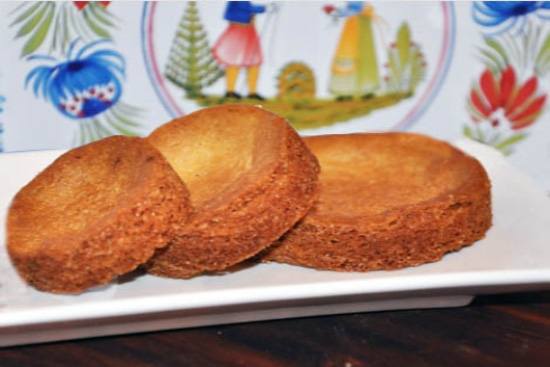 12

15 minutes
Ingredients
1 large egg yolk
6 oz super fine sugar
3 oz whole milk
9 oz salted butter, softened
14 oz flour by weight
1/2 teaspoon baking powder


Preparation
Mix the butter and sugar in a mixer until creamy .
Combine egg yolk and milk and mix in the butter-sugar.
Add flour , baking powder and butter; mix and knead the dough for 5 minutes by hand but without excess.
Cover the dough and refrigerate for 30 minutes.
Place the dough between two sheets of parchment paper and spread to a thickness of 1/4 inch
Preheat oven to 375 degrees F.
Cut the dough with greased 2 1/4-inch circles.
Arrange the circles with the dough on a baking sheet lined with parchment paper.
Bake 12minutes, then unmold the cake .
Cool on a wire rack and store in an airtight container !
In the Biscuit manufacturing Company of Traou Mad in Pont Aven they mark each cake with a stamp before baking.