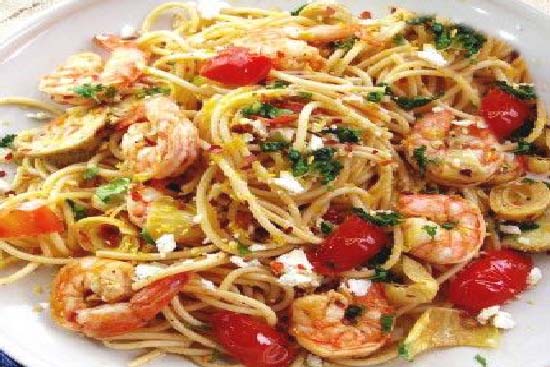 4

15 minutes
Ingredients
1/4 cup olive oil
4 teaspoons minced garlic
1 lb medium shrimp, uncooked peeled and deveined
1 1/2 cups drained canned artichoke hearts, chopped
1 cup crumbled feta cheese
1 cup chopped tomato
1/2 cup chopped Kalamata olives
3 tablespoons fresh lemon juice
3 tablespoons chopped fresh parsley
1 1/2 teaspoons dried oregano
salt and red pepper flakes
12 ounces angel hair or spaghettini pasta


Preparation
In a large skillet, heat oil over medium-high heat.

Add the garlic and stir for a minute to develop the flavor. Add shrimp to the skillet and saute for 2 minutes.

Add artichoke hearts, feta cheese, tomatoes, olives, lemon juice, parsley, oregano, salt, and pepper.
Saute for 2 minutes or until shrimp are cooked and pink.

Meanwhile, cook pasta in large pot of boiling salted water until just tender but still firm to bite, stirring occasionally. Drain. Transfer pasta to large bowl.

In a large bowl, stir together the pasta and shrimp mixture; toss to coat.

Season with more salt and pepper if needed and serve.