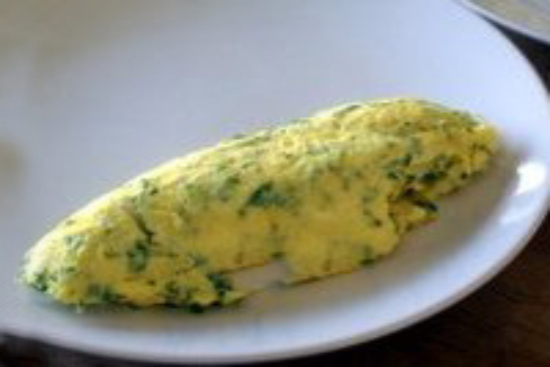 2

5 minutes
Ingredients
4 large eggs
3 tablespoons chopped fresh Italian parsley
2 teaspoons water
1 teaspoon dried fines herbs or dried salad herbs
1/4 teaspoon salt
1/4 teaspoon ground black pepper
2 tablespoons (1/4 stick) butter
1/2 cup (packed) grated Gruyère cheese (about 2 ounces)

Preparation
Beat eggs, 2 tablespoons parsley, 2 teaspoons water, dried herbs, salt and pepper in small bowl to blend.
Melt 1 tablespoon butter in small nonstick skillet over medium-high heat. Add half of egg mixture (about 1/2 cup) to skillet. Cook until eggs are just set in center, tilting pan and lifting edge of omelet with spatula to let uncooked portion flow underneath, about 2 minutes.
Top half of omelet with 1/4 cup cheese.
Using spatula, fold other half of omelet over cheese; slide out onto plate. Repeat with remaining butter, egg mixture and cheese. Sprinkle omelets with remaining 1 tablespoon parsley.