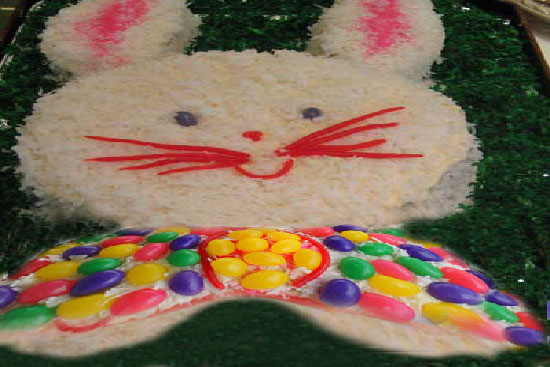 8

35 minutes
Ingredients
1 package Yellow Cake
1 cup water
1/3 cup Vegetable Oil
3 large eggs

Butter Cream Frosting (recipe below)
2 cups coconut
Red licorice strips
Jelly beans



Butter Cream Frosting
4 cups powdered sugar
1/3 cup unsalted butter
1 1/2 teaspoons vanilla extract
5 to 6 tablespoons milk

1. In the bowl of an electric mixer combine powdered sugar, shortening and vanilla. Slowly blend in milk to desired consistency.
2. Beat on high for 5 minutes, or until smooth and creamy.

Preparation
1. HEAT oven to 350°F.
Prepare cake according to package directions using the water, oil and eggs.
Pour into two 8-inch round cake pans. Bake as directed. Cool for 10 to 15 minutes before removing from pan. Cool completely.

TURN one cooled cake layer upside down. See image sketch for details:
Mark center of cake with toothpick. Measure about 2-inches in from two sides of cake lining up the toothpicks. Using the tip of a sharp knife, lightly draw a 2-inch wide x 6-inch long oval, football shape, to make the ears. Cut with a serrated knife. The middle part of the layer will be the "bow tie" for the bunny.



PLACE whole cake layer in center of large tray. Place ears and bow tie, rounded side up, to make bunny. Frost entire surface and sides of cake, connecting the pieces together with frosting. Sprinkle with coconut. Cut licorice pieces for mouth and whiskers. Cut jelly beans in half for eyes, nose and bow tie.
TIP To make green "grass" around bunny, toss an additional 1/2 cup coconut with a few drops of green food coloring until desired color. Place around base of bunny.