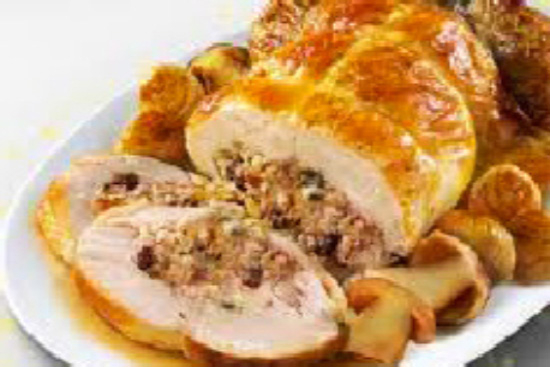 8

40 minutes
Ingredients
Stuffing:
2 cups cubes from a loaf of Italian rustic bread (trimmed of crust)
2 tablespoons olive oil
1 small red onion, peeled and very thinly sliced (3/4 cup)
2 small garlic cloves, minced
Coarse salt and freshly ground pepper
6 ounces sweet Italian sausage (about 1 1/2 links), casings removed
1/3 cup (2 ounces) coarsely chopped dried sour cherries
1 teaspoon finely chopped fresh rosemary
1/3 cup Basic Chicken Stock
3 tablespoons coarsely chopped fresh flat-leaf parsley


1 boneless, skin-on turkey saddle, 4 to 5 lbs (2 to 2.5 kg)
Salt and freshly ground black pepper
2 tbsp melted butter, or duck fat at room temperature
3 tsp chopped thyme, divided
2 tbsp flour
2 cups chicken stock
¼ cup tart cherry juice
¼ tsp ground allspice

Preparation
Toast bread: Heat oven to 400 degrees. Spread bread in a single layer on a rimmed baking sheet and toast, stirring occasionally, until golden brown, about 10 minutes. Let stand until cool.
Make stuffing: Set a large skillet over medium-high heat until hot, then heat the oil. Add onion and garlic, and season with salt and pepper. Cook, stirring occasionally, until onion is translucent, about 3 minutes. Add sausage and cook, breaking it up with the back of a spoon, until cooked through, about 3 minutes. Stir in cherries and rosemary, and cook 1 minute more. Pour in stock and stir to combine, then stir in bread, making sure all parts are moistened with liquid. Remove from heat and stir in parsley. Adjust seasoning as desired, before proceeding with the Stuffed Turkey Breast recipe.


Preheat oven to 425°F (220°C).

Cut 8 pieces of twine, each about 12 inches (30 cm) long. Working on a large cutting board, arrange them parallel to each other, with about 1 inch (2.5 cm) between each. Open turkey like a book, and place in center of twine with center seam perpendicular to twine; season flesh with salt and pepper. Spoon stuffing into length of seam. Beginning with a piece of twine nearest the center, gather both ends together to enclose stuffing; tie and repeat with remaining twine to form a torpedo-shaped roast. Trim excess twine and place on a rack over a small roasting pan or baking sheet. Brush with butter or duck fat, sprinkle with 2 tsp thyme; season with salt and pepper.

Roast for 20 minutes. Reduce temperature to 350°F (180°C) and cook for another 18 minutes per pound, or until internal temperature reaches 165°F (73°C). Remove turkey and rack to a board and tent with foil while finishing gravy.

Place baking pan over medium heat on stove top. Sprinkle flour over drippings and stir until a smooth paste forms. Pour chicken stock into pan (if using a baking sheet, scrape paste into a small pot before proceeding) and whisk until smooth; bring to a boil and simmer for 10 minutes to thicken and concentrate flavor. Stir in cherry juice, allspice and remaining 1 tsp (5 mL) thyme. Season to taste.

Carve turkey into slices and serve with gravy.