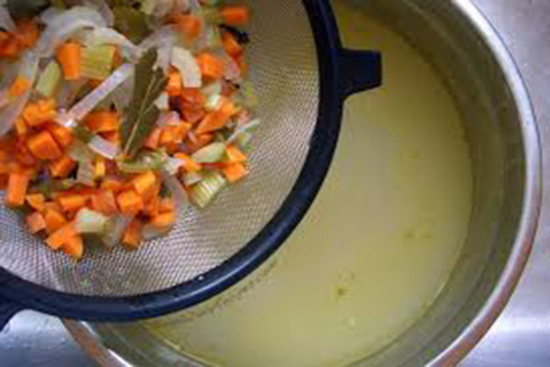 30 minutes
Ingredients
2 small leeks
4 medium sliced onions
3 sliced celery stalks
2 sliced carrots
2 garlic cloves, crushed
1 cup dry white wine
1/4 cup white wine vinegar
12 parsley stems
1 teaspoon dry thyme leaves
2 bay leaves
1 teaspoon black peppercorns, cracked
1 teaspoon salt
Preparation
Trim the leeks. Split lengthwise. Wash thoroughly to remove all grit, and slice. Put the onions, celery, carrots, 3 1/2 quarts of water, leeks, and garlic cloves in a large stockpot. Bring the liquid to a boil, then reduce the heat to maintain a simmer. Skim off all the scum that surfaces. Simmer for 15 minutes.
Add the wine, wine vinegar, parsley stems, thyme, bay leaf, and peppercorns. Simmer the stock for 15 minutes more.
Strain the stock through a fine strainer. Allow to cool before refrigerating.