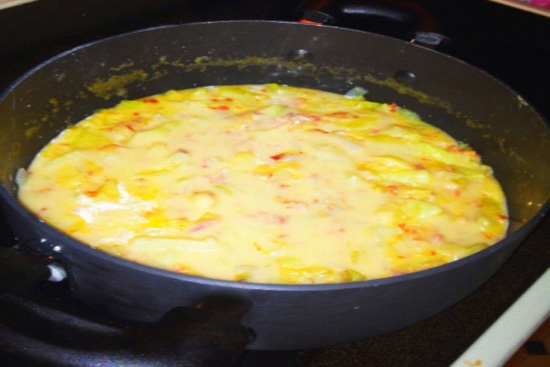 6

20 minutes
Ingredients
8 oz bacon slices
2 tablespoons butter
3 tablespoons all-purpose flour
1/2 cup chopped onion
3 cups cubed peeled potatoes
1 small carrot, grated
1 tablespoon chopped parsley
1/2 teaspoon salt
1/2 teaspoon pepper
1/2 teaspoon celery seed
2 cups vegetable or chicken broth
2 cups 2% milk
8 ounces cheddar cheese, cubed
2 green onions, thinly sliced, optional


Preparation
1. Partially freeze your package of bacon so that it holds together easier while slicing.
2. Use a sharp knife and cut the frozen bacon into long strips about 1/4 inch wide.
3. Turn the bacon and cut the strips into pieces also about 1/4 in wide.
4. Sprinkle with pepper.
5. Fry in a large saucepan over a medium high heat until crisp. Remove bacon from pan.
Save 1/4 cup of bacon dripping in the saucepan. Add butter and mix in the flour cooking over medium heat for a minute while stirring occasionally. Add the vegetables, seasonings and broth and milk; bring to a boil. Reduce heat; simmer, covered, until potatoes are tender, 10-15 minutes.
Stir in cheese until melted. Serve with bacon bits and garnish with green onions.