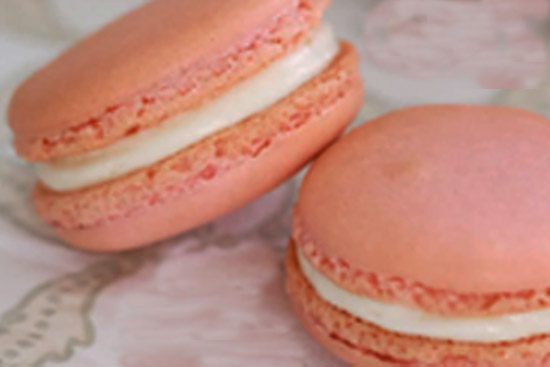 4

15 minutes
Ingredients
2 egg whites - aged at room temperature for 3 days (measure 57 g after aging - I'm using 55 g eggs)
70 g ground almond powder
113 g icing / confectioners' sugar
21 g super fine sugar
1/4 tsp cream of tartar
1 tsp rose water essence

Rose water buttercream filling:
90 g unsalted butter – room temperature
3/4 cup (100 g) icing / confectioners' sugar
28 g (1 oz) white chocolate – melted
1 1/2 tbsp. rose water essence

Preparation
1. In a food processor, add in icing sugar, ground almond powder and pulse for 30 secs into fine powder.
2. Put the mixture through a sieve and remove any lumps. Transfer to a mixing bowl and set aside.
3. In a mixing bowl, add in egg whites, cream of tartar. Using an electric hand mixer or stand mixer, whisk until foamy.
4. With the mixer on low speed, add in the sugar slowly and whisk until soft peaks.
5. Drizzle in rose water essence and turn up the mixer to high speed. Continue to whisk the meringue until stiff peaks.
6. Add in pink color gel by using a stick or skewer.
7. Turn on the mixer and mix until the color is well combined.
8. In 3 batches, fold the meringue with a spatula into the icing sugar and almond powder.
9. It should resemble a lava-like texture. When you raise the spatula, the batter should flow down slowly and perfectly okay if it breaks in between.
10. Pipe the meringue onto a baking tray lined with non-stick baking sheet.
11. Rap the tray a few times on the counter to remove air bubbles. Use a skewer to break up large air bubbles.
12. Set it to dry at room temperature for 45 – 60 mins or in an oven preheated at 40C for 15 mins.
13. While waiting, prepare the buttercream filling by creaming the butter and icing sugar together till light and fluffy.
14. Add in melted chocolate and rose water essence. Continue to whisk for another 1 min.
15. Fill the buttercream in a piping bag.
16. Check the meringue by gently touching the skin of the meringue. It should be dry to the touch.
17. Bake in a pre-heated oven at 305F (150C) for 15 minutes.
18. Cool them on a wire rack completely before piping the buttercream filling.
19. If making ahead, store the cooled macaron shells in an air-tight container.
20. Macarons always taste better the next day so you could make them a day in advance and store them in air-tight containers before serving.
21. If you are staying in humid environment, store them in the fridge.