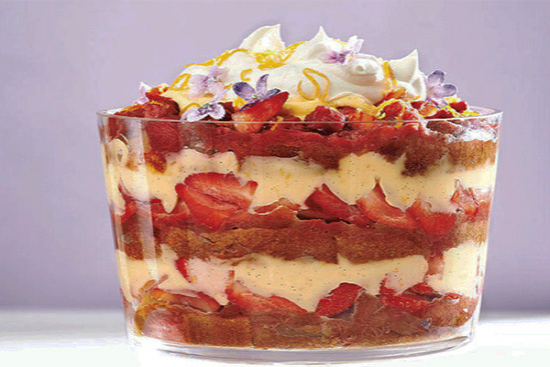 10

30 minutes
Ingredients
3 cups rhubarb, cleaned and diced
3 cups strawberries, sliced
1 cup sugar

Combine rhubarb, strawberries and sugar in a saucepan. Cook over medium heat until medium thick, about 15 minutes.

A 10" sponge cake or angel cake cut into 1/2 inch cubes
2 cups whipped cream

CUSTARD CREAM
6 large egg yolks
2/3 cup sugar
1 tablespoon cornstarch
1 teaspoon vanilla
2 cups hot milk
2 tablespoons dark rum or Grand Marnier (optional)

Preparation
In mixing bowl, combine the egg yolks, sugar and cornstarch and whisk with a wire whisk until the mixture turns into a lemon color. Add the vanilla and blend well.
In a saucepan, bring the milk to a boil. Gradually pour over egg mixture while whisking. Transfer to a saucepan, heat and whisk until thick. The custard should not boil. Pour the custard through a fine strainer into a mixing bowl. Cool to room temperature, stirring occasionally to maintain smoothness. Top with wax paper to prevent skin formation and let cool completely.


ASSEMBLY
Arrange one half of the sponge cake cubes into a trifle bowl. Add 1/3 of the custard. Top that with 1/3 of the rhubarb. Do this again: cake, custard, rhubarb. Finally end with custard, rhubarb. Top the whole thing with whipped cream.