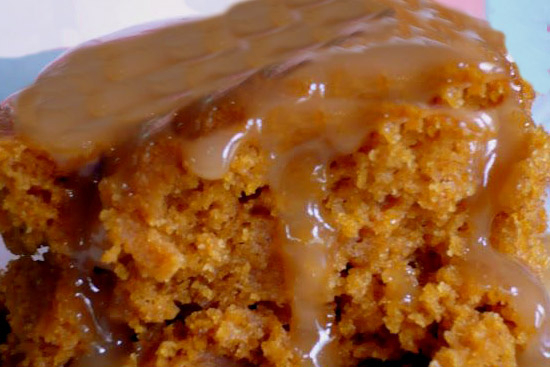 12

45 minutes
Ingredients
1 1/4 cups chopped dates
1/2 cup Calvados or apple cider
3/4 cup unsalted butter
1 1/2 cups packed brown sugar
2 eggs
2 1/2 cups grated peeled apples
3 cups flour
4 teaspoons cinnamon
1 tablespoon baking soda
1 teaspoon nutmeg
1/2 teaspoon ground cloves


Hot Butterscotch Sauce

Makes 2 ½ cups

1 cup granulated sugar
3/4 cup corn syrup
1/3 cup butter
1 1/3 cups light cream
1 1/2 teaspoons vanilla

Preparation

Preheat oven to 350 degrees.
Grease a 13x9-inch cake pan. Heat dates and Calvados, covered until bubbly; simmer for 1 minute. Let cool.
Cream butter and sugar until fluffy.
Beat in eggs, one at a time: stir in apples and date mixture. In separate bowl, sift together flour, cinnamon, baking soda, nutmeg and cloves; gently stir into apple batter just until mixed. Spread evenly in prepared pan.
Bake for 40 to 45 minutes or until cake springs back when lightly touched in centre.
Serve cake warm with Hot Butterscotch Sauce. Recipe adapted from Canada Living October 1990 Georgian Bay restaurant The Spike & Spoon.

Hot Butterscotch Sauce

In saucepan, bring sugar, syrup and butter to boil; stirring; boil for 3 minutes. Stir in cream and bring back to boil. Remove from heat; add vanilla.