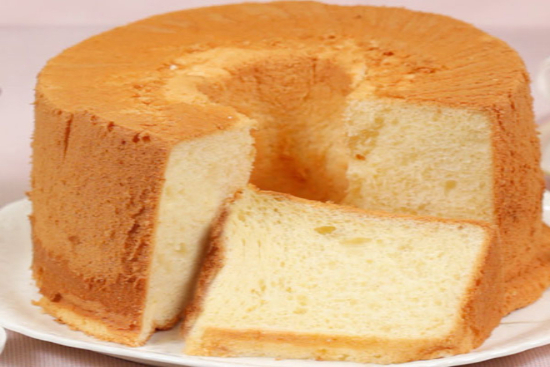 12

1 hour
Ingredients
2 cups all cakeflour
1 cup sugar
1 teaspoon baking powder
1 teaspoon salt
1/2 cup vegetable oil
5 egg yolks
1/4 cup water
3/4 cup orange juice
1 teaspoon orange rind, grated
1 teaspoon vanilla
1 cup egg whites
1/2 cup sugar
1/2 teaspoon cream of tartar

ORANGE FLUFF ICING

1 cup sugar
1/2 cup egg whites
1 teaspoon grated orange rind
1/4 cup orange juice
1 teaspoon cornstarch
Preparation
Preheat oven to 325 degrees.
In a large mixing bowl, blend flour, 1 cup sugar, baking powder and salt. Add oil, egg yolks, water, orange juice, rind, and vanilla. Mix until smooth.
Beat egg whites with cream of tartar. Gradually add sugar, and beat to form soft peaks. Fold egg whites into batter.
Pour into a 10-inch ungreased tube pan. Bake for about 1 hour. Test with a cake tester. Invert until cold. Loosen cake with knife. Unmold. Cover with orange fluff icing.

ORANGE FLUFF ICING

Place all ingredients in a mixing bowl.
Beat with a whisk over adouble boiler until peaks start to form.
Remove from heat, beat for 2 to 3 more minutes or icing is at a spreadable consistency.
Cover chiffon cake.