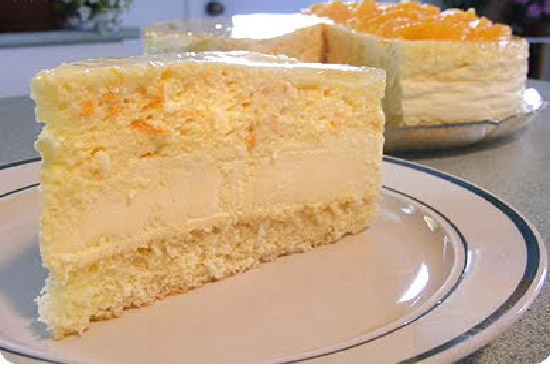 10

10 minutes
Ingredients
1 recipe Grand Marnier orange mousse
1 recipe almond genoise cake
2 large seedless oranges
1 cup water
1 cup sugar
1/2 cup sugar
1/2 cup water
3 tablespoons Grand Marnier
1/4 cup apricot jam
1 ounce sweet chocolate
Preparation
Slice oranges thinly.
Boil water and sugar. Steep oranges in cold syrup for an hour.
Make Grand Marnier syrup with remaining sugar, water, and Grand marnier. Cool.
Slice genoise into 2 layers.
Line a 9 inch springform pan with wax paper and arrange sliced oranges on paper. Save a few slices. Spoon 1/2 mousse into pan.
Top with a genoise half. Brush with 1/2 of syrup. Press orange slices into sides of pan, rounded sides down.
Spread remaining mousse over cake.
Top with other genoise. Brush with syrup. Refrigerate 4 hours.
Invert cake on platter. Heat and release pan sides. Peel off wax paper. Brush with top with melted apricot, and decorate with chocolate.