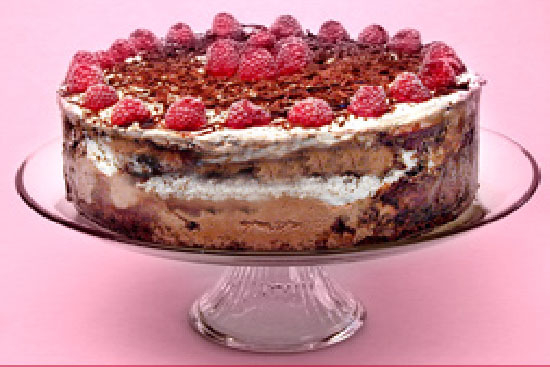 12

10 minutes
Ingredients
Crust:
1 1/2 cups chocolate wafer crumbs
2 ounces semisweet chocolate, chopped
1/4 cup butter
2 tablespoons sugar

Cake:
3 cups chocolate ice cream
2- 10 oz (300g) packages frozen raspberries
1/4 cup raspberry liqueur or schnapps
2 tablespoons sugar
6 cups vanilla ice cream
chocolate curls
Preparation
Crust:
stir together crumbs, chocolate, butter and sugar until well moistened. Press onto bottom of 9-inch springform pan.
Bake in 350 F. (180 C.) oven for 10 minutes. Let cool. Line inside of pan above crust with double thickness waxed paper extending 2 inches above pan and overlapping by 1 inch. Tape or staple edges together. Let chocolate ice cream stand at room temperature for 10 to 15 minutes or until softened; stir until smooth. Spread over crust and freeze. Meanwhile, reserve 24 raspberries in freezer for garnish.

Cut 1 cup of the remaining berries in half; set aside in freezer. Thaw remaining berries and puree in food processor; press through sieve into bowl to remove seeds. Stir in raspberry liqueur and sugar.
Soften 3 cups of the vanilla ice cream; stir in halved raspberries and 1 1/2 cups of the puree.
Spread over chocolate layer and freeze for 1 hour. Soften remaining vanilla ice cream; spread over raspberry layer, smoothing top.
Freeze for 15 minutes.
Spread remaining puree over top; freeze until solid. (Can be wrapped and stored in freezer for up to two weeks.)
Garnish with chocolate curls and reserved frozen raspberries. Let stand in refrigerator for 1 1/2 hours before serving.
Making chocolate curls:
Melt chocolate and spread evenly and thinly with palette knife onto clean baking sheet. Refrigerate until set but not hard, about 5 minutes, letting warm again at room temperature if necessary. Scrape a knife or scraper across chocolate in opposite direction, forming curls of desired width.