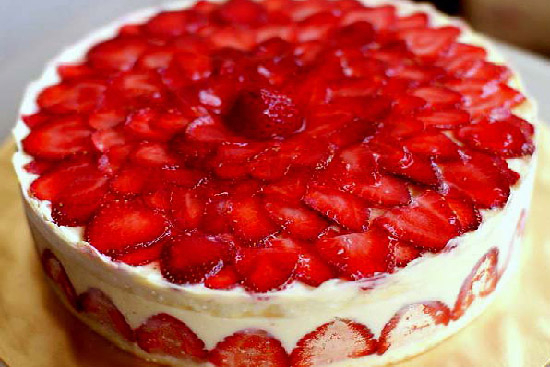 10

45 minutes
Ingredients
3/4 cup slivered almonds
1 1/2 cups cake flour
1 1/2 teaspoons baking powder
1/2 teaspoon baking soda
1/2 teaspoon salt
1 cup buttermilk
3 tablespoons canola oil
1 teaspoon vanilla extract
1/4 teaspoon almond extract
2 large eggs
2 large egg whites
1 1/4 cups granulated sugar
For filling:
2 pints strawberries
2 tablespoons granulated sugar
1/2 teaspoon gelatin powder
1 tablespoon water
3 large egg whites
1/4 cup granulated sugar
1/4 teaspoon cream of tartar
1/2 cup whipping cream
1 teaspoon vanilla extract
Preparation
Preheat oven to 325 degrees F.
Lightly oil a 9-inch springform pan. Dust pan with flour, tilting to coat evenly and tapping out the excess. Line bottom with parchment or wax paper. Lightly oil paper.
Spread almonds in a shallow pan and bake for 4 to 8 minutes, until light golden. Let cool.
In a food processor or blender, combine flour, baking powder, baking soda, salt and toasted almonds. Process until almonds are ground. Set aside.
In a measuring cup, combine buttermilk, oil and vanilla and almond extracts. Set aside
In a large mixing bowl, combine eggs, egg whites and sugar. Beat with an electric mixer at high speed until mixture is thick and pale, about 5 minutes. The beaters should leave a ribbon trail when lifted.
With a rubber spatula, alternately fold reserved dry ingredients and buttermilk mixture into egg mixture, making 3 additions of dry ingredients and 2 additions of liquid.
Gently spread batter in prepared pan and tap the pan once on the counter to release air bubbles. Bake for 45 minutes, or until top springs back when lightly touched and cake shrinks away slightly from sides of pan.
Place on a wire rack to cool for 10 minutes. Loosen edges of cake from pan, remove pan rim and invert cake onto rack. Remove pan bottom, peel off paper and let cool completely.
To prepare berries: In a large bowl, toss strawberries with sugar. Set aside.
To make vanilla cream: Chill a mixing bowl. Meanwhile, in a small bowl, sprinkle gelatin over water; let stand for 1 minute.
In a large saucepan, bring about 1 inch of water to a simmer. Adjust heat so water barely simmers. In a heatproof mixing bowl large enough to fit over the saucepan, combine egg whites, sugar, cream of tartar and softened gelatin. Set the bowl over the simmering water and beat with an electric mixer at low speed until an instant-read thermometer registers 140 degrees F. Increase mixer speed to high and continue beating over the heat for 3½ minutes. Remove bowl from heat and beat meringue until completely cooled, about 4 minutes more.
In the chilled bowl, combine cream and vanilla and beat with electric mixer at medium speed until soft peaks form. Fold one-fourth of the meringue into the cream. Gently fold in remaining meringue.
To assemble cake:
No more than 2 hours before serving, place the cake on a serving plate. Using a serrated knife, slice cake horizontally into 2 layers.
Carefully lift off top layer. Spoon half the berries and all the juices onto the bottom layer. Spread with half the vanilla cream. Cover with the top layer. Spoon remaining vanilla cream on top and arrange remaining strawberries over cream. Refrigerate until serving time.