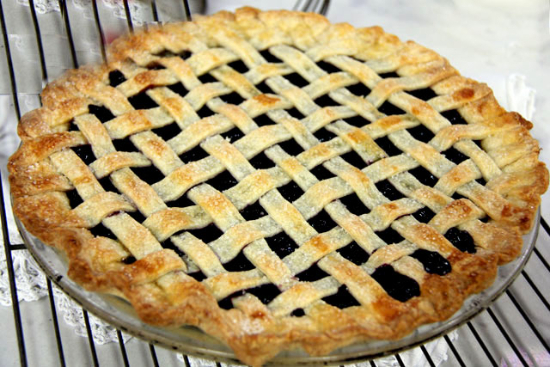 8

45 minutes
Ingredients
Double Crust Pie Dough
Makes enough pastry for 1 2-crust pie

Ingredients:
2 1/3 cups All-purpose flour
4 tsp Granulated sugar
1 tsp Salt
1 cup Cool unsalted butter, cut into small pieces
1 Large egg, directly from the fridge
2 tbsp Cold water
2 tsp White vinegar or lemon juice

Cooked Blueberry Filling:
4 cups fresh or frozen blueberries
1 medium apple, peeled and coarsely grated
1 cup sugar
1 Tbsp lemon or lime juice
1 tsp lemon or lime zest
¼ tsp ground cinnamon
2 ½ Tbsp cornstarch
Assembly:
1 recipe Double crust pie dough
1 egg mixed with 2 Tbsp water, for brushing
Turbinado or granulated sugar, for sprinkling


Preparation
Directions for Double Crust Pie Dough:
Combine the flour, sugar and salt. Cut butter into small pieces (you can pull the butter from the fridge 30 minutes before adding) and add to the flour, mixing it in until the dough is a rough, crumbly texture.
Whisk the egg, water and vinegar or lemon juice and add it all at once, mixing until dough comes together. Shape dough into 2 logs or discs, wrap them in plastic and chill for at least one hour before rolling.
The pie dough can be frozen for up to 6 months and thawed in the refrigerator.

For the filling, bring the blueberries, apple, sugar, citrus juice, zest and cinnamon up to a simmer over medium heat, stirring occasionally, cooking until the blueberries are soft and tender, about 10 minutes. Whisk the cornstarch with a few tablespoons of cold water and add this to the blueberry filling, stirring and returning to a simmer until the filling has thickened and is glossy. Set aside to cool to room temperature. If making ahead, store the filling chilled, but bring it up to room temperature before baking into a pie.

Preheat the oven to 400 F. Pull out the dough from the fridge 15-30 minutes before rolling. On a lightly floured surface, roll out the first disk of dough into a circle just less than ¼-inch thick. Dust a 9-inch pie plate with flour and line the plate with the pastry, leaving the edges untrimmed. Spoon the blueberry filling into the crust.

Roll out the second disk of pastry slightly thinner than the bottom crust, about 1/8 - inch, but into more of a square shape. Use a knife or pastry wheel to cut long strips about ½ -inch wide (you should have between 12 and 18 strips). Lay half of the strips over the blueberry pie filling, leaving a ½ -inch between them. Gently lift alternating strip of pastry, folding them halfway back. Place a new strip of pastry perpendicular against where the strips are folded back, then fold those very pieces over the newly laid strip. Now lift the opposite alternating strips and fold them back as far as they can go (to the edge of that newly laid strip) and place a second perpendicular strip beside it. Repeat this technique moving toward one side of the pie shell, and then repeat towards the other side, until the top has a complete lattice top. Trim away the excess pastry and pinch the edges to create a fluted design. Brush the lattice top with the egg wash and sprinkle with sugar.

Bake the pie for 10 minutes at 400 F, then reduce the oven temperature to 375 F and cook for about another 40 minutes, until the pastry is golden brown. Cool the pie to room temperature and then chill until ready to serve.