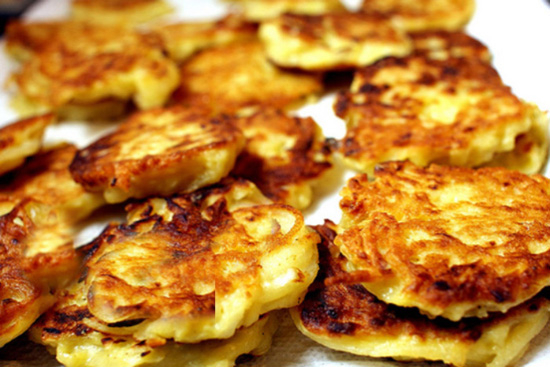 4

20 minutes
Ingredients
Salad:
1 tablespoon balsamic vinegar
1/2 teaspoon Dijon mustard
3 tablespoons olive oil
2 tablespoons finely chopped fresh chives
1 tablespoon finely chopped shallots
1 garlic clove, finely chopped
4 cups mixed baby greens

Pancakes:
2 russet potatoes, peeled, grated
1/2 teaspoon salt
1/4 teaspoon pepper
1 1/2 tablespoons olive oil
4 ounces soft fresh goat cheese (Montrachet) crumbled
4 teaspoons finely chopped fresh chives



Preparation
For salad:
whisk vinegar and mustard. Gradually whisk in oil. Mix in chives, shallot and garlic. Season to taste with salt and pepper.
For pancakes:
Place potatoes in dry kitchen towel and squeeze to remove as much moisture as possible. Transfer potatoes to large bowl. Add salt and pepper and toss to combine.
Heat 1 tablespoon oil in heavy skillet over medium heat. Mound 1/3 cup potatoes in skillet. Using spatula, flatten to 3-inch round. Repeat 3 times, forming 4 pancakes.
Top each cake with 1/4 of goat cheese. Sprinkle each with 1 teaspoon chives.
Cover each with another 1/3 cup potatoes; press to adhere, enclosing cheese completely and flattening slightly. Cook until bottoms are golden. Add 1/2 tablespoon oil to skillet. Turn pancakes over; cook until golden. Toss green with enough dressing to coat.
Divide salad among plates. Arrange 1 pancake atop each salad.