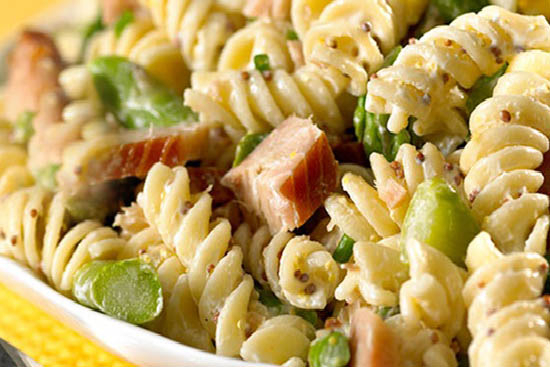 10

105 minutes
Ingredients
For oven-poached chicken:
1-5 pound roasting chicken
1 1/2 cups chicken stock
1/2 cup white wine
1 bay leaf
1 teaspoon tarragon and thyme

For salad:
1 pound rotini pasta
1 pound asparagus, cooked
1/2 pound snow peas, trimmed and blanched
1 red pepper, seeded and sliced
1/2 cup almonds, unblanched and toasted

For basil-tarragon dressing:
1/2 cup white onion, chopped
2 teaspoons sugar
2 teaspoons each fresh basil and tarragon
1 garlic clove, minced
1 cup vegetable oil
1/2 cup white wine vinegar
to taste salt and pepper
Preparation
Preheat oven to 375 degrees.
Place roasting chicken in large pan.
In glass measure, combine stock, wine, bay leaf, tarragon and thyme; pour over chicken. Cover pan with foil.
Bake 1 1/2 hours or until drumsticks move easily in sockets. Remove pan from heat; set aside to cool completely.
Remove chicken to board; strain stock and reserve for another use, such as soup.
Remove all meat from chicken, discarding skin and bones; cut meat into 2-by 1-inch pieces. Place chicken meat in large bowl; refrigerate, covered up to 24 hours.
In large pot of boiling salted water, cook pasta 5 to 7 minutes. Drain well; rinse under running water.
Cut asparagus into 2-inch pieces; add to snow peas and chicken, along with red pepper and almonds.
Dressing:
In food processor, combine onion, parsley, sugar, basil, tarragon and garlic. Process until finely chopped. Add oil, vinegar, salt and pepper; process until creamy and well combined. Add dressing to salad; toss well. Spoon unto serving platter. Refrigerate, covered, until ready to serve.