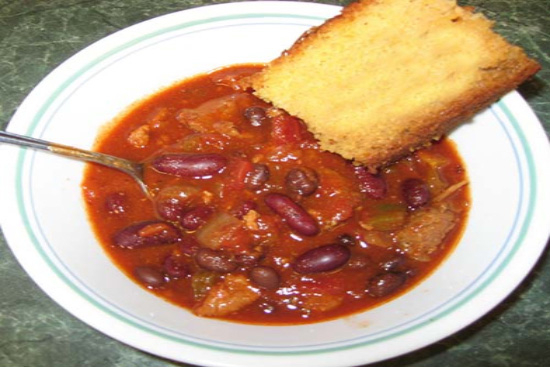 8

50 minutes
Ingredients
2 pounds ground beef
2 pounds ground pork
2 cups chopped onions
1 cup chopped green peppers
1 cup chopped celery
1 tablespoon minced garlic
1 tablespoon chili powder
2 bay leaves
2 teaspoon cumin
3 cups chopped tomatoes
1/2 cup tomato paste
1 cup beef broth
1/2 teaspoon red pepper flakes, or chopped ortega chiles
2 cups drained kidney beans

Corn bread pudding (optional) see recipe below
Preparation
In a thick bottom skillet, brown ground beef and pork in olive oil. Add chopped onions, peppers, celery, and garlic.
Cook to soften vegetables.
Mix in chili powder, bay leaf, ground cumin, chopped tomatoes, tomato paste paste, beef broth, red pepper flakes, or chopped Ortega chilies, and drained red kidney beans.
Simmer 30 to 40 minutes.
Serve with shredded cheddar cheese, sour cream, and or lime wedges.
Or place in casserole dish and cover with Corn bread pudding, and bake.