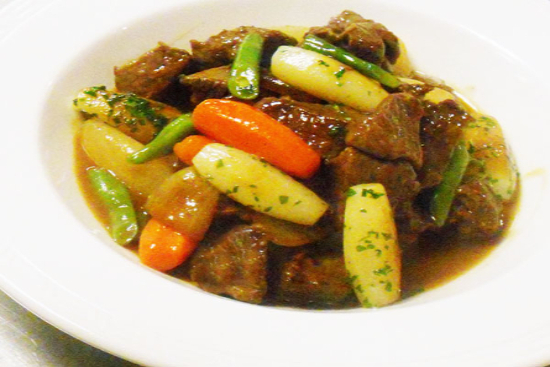 8

50 minutes
Ingredients
4 pounds lamb shoulder, cut into 2 inch pieces
3 tablespoons olive oil
1 large onion, finely chopped
4 cloves garlic, crushed and chopped
3 tablespoons tomato paste
3 tablespoons flour
salt and black ground pepper to taste
1 bouquet garni
1 tablespoon chopped parsley

Garnish:
1 pound carrots, peeled
1 pound white turnips, peeled
8 ounces green peas
8 ounces green beans, trimmed
8 ounces pearl onions, peeled
1 1/2 pounds potatoes, peeled
Preparation
Preheat oven to 350 degrees.
In oven-proof skillet, heat up oil to a smoking point. Brown the lamb pieces. Add onions. Mix with he lamb and brown lightly. Sprinkle the meat with the flour and mix well. Place in the oven for 5 minutes to brown the flour.
Take out of the oven, cover the meat with water. Add tomato paste, garlic, bouquet garni, salt and pepper.
Cover pot, and cook the stew in the oven for 30 minutes.
Evenly shape the carrots, turnips, and potatoes into small footballs. Cut the beans into 1 inch pieces.
Add potatoes and all vegetables to stew. Continue baking until meat and vegetables are tender.
Transfer stew to a serving dish. Sprinkle with parsley and serve hot.