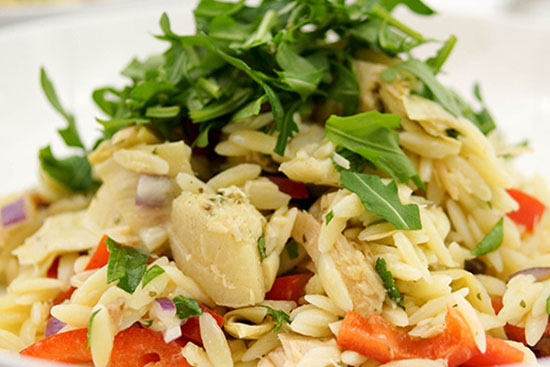 4

25 minutes
Ingredients
1 cup long grain orzo
1/2 pound green beans cut into 1/2-inch pieces

For dressing:
3 teaspoons red wine vinegar
1 teaspoon lemon juice
4 anchovy fillets, chopped
1 teaspoon dijon mustard
1 garlic clove, minced
1/3 cup virgin olive oil
1/4 teaspoon ground black pepper

6 ounce jar artichoke hearts, drained and chopped
7 ounce can tuna, drained, flaked
1 red bell pepper, chopped
1/2 cup chopped red onion
1 1/2 teaspoons minced fresh thyme leaves
1/3 cup kalamata or brined-cured black olives, chopped
2 cups chopped arugala, washed and spun dry

Preparation
Cook orzo in salted boiling water until tender. Drain in a colander, and rinse under cold water. Drain again.
Transfer to a large bowl. Cook beans in salted boiling water until crisp-tender. Cool and drain. Add to orzo.
In a blender, combine Red wine vinegar, Lemon juice, anchovy fillets, Dijon mustard, garlic clove, olive oil, and pepper. Blend until dressing is smooth. Add dressing to orzo mixture. Blend in the remaining ingredients. Serve as a main course.