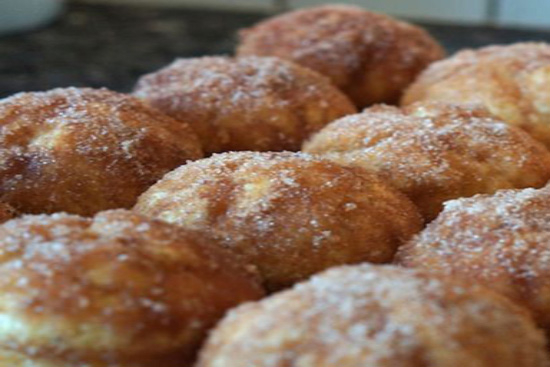 12

40 minutes
Ingredients
For Muffin Batter
1 cup milk (low-fat is fine)
2 teaspoons lemon juice
12 tablespoons (1-1/2 sticks) unsalted butter, softened but still cool
1 cup granulated sugar
2 large eggs
1-1/2 teaspoons vanilla extract
3 cups all-purpose flour, spooned into measuring cup and leveled-off
2-1/2 teaspoons baking powder
1/4 teaspoon baking soda
1 teaspoon salt
2 teaspoons grated nutmeg
For Muffin Topping
3 tablespoons unsalted butter
3 tablespoons granulated sugar
2-1/4 teaspoons cinnamon
Preparation
Preheat oven to 350°F. Spray a standard-size muffin pan generously with nonstick cooking spray.
Combine milk and lemon juice in a measuring cup and set aside.
In a stand mixer or large bowl, beat the butter and sugar until light and fluffy, about 2 minutes. Beat in the eggs, one at a time, until just mixed in. Stir in the vanilla.
In a medium bowl, combine the flour, baking powder, baking soda, salt, and nutmeg. Stir with a whisk until well combined.
Using a rubber spatula, mix a quarter of the dry ingredients into the butter mixture. Then mix in a third of the milk mixture. Continue mixing in the remaining dry and wet ingredients alternately, ending with the dry. Mix until well combined and smooth, but don't over-mix. The batter will be very thick.
Scoop enough batter into each tin so that the top of the batter is even with the rim of the cup. (I like to use an ice cream scoop with a wire scraper for this.) Bake the muffins until firm to the touch, 25-30 minutes. Set pan on rack to cool for a few minutes.
In the meantime, prepare the topping: melt the butter in a small dish and combine the cinnamon and sugar in another small dish.
When the muffins are cool enough to handle, use a pastry brush to paint the top of each muffin with butter, then sprinkle generously with cinnamon-sugar. If you have cinnamon-sugar left over, sprinkle muffins again. Serve warm, or cool on a rack and wrap airtight. Store at room temperature. Reheat muffins briefly in microwave for that fresh out of the oven taste.