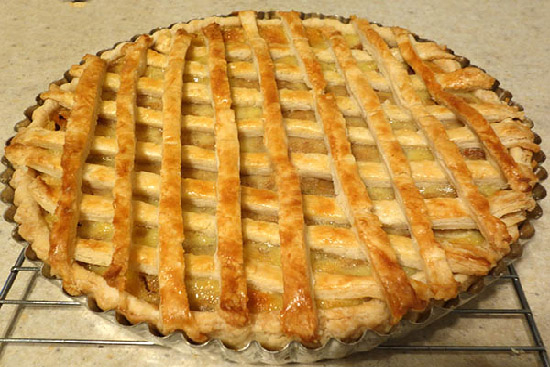 10

40 minutes
Ingredients
1 9-inch pie crust and more for lattice top
4 cups cooking apples, peeled and sliced
2 teaspoons butter
1/2 teaspoon cinnamon
1/4 cup sugar
4 ounces Calvados or Brandy

for custard:
1/3 cup sugar
2 teaspoons flour
1 teaspoon grated lemon rind
1/2 cup heavy cream
2 eggs
2 teaspoons vanilla extract

3 ounces melted apricot
1 beaten egg
Preparation
Preheat oven at 400 degrees.
Line pie crust in a 9 inch pie plate. Peel, core, and cut apples into wedges.
Melt butter in a saute pan. Add apples. Cook for 2 minutes. Mix in the cinnamon, sugar, and Calvados and cook apples until tender. Transfer to a large bowl to cool.
To prepare the custard:
combine the sugar, flour, lemon zest, cream, eggs, and vanilla.
Pour over apples and blend well. Pour mixture in pie crust.
Bake for 15 minutes.
Top with the melted apricot jam.
Decorate top of pie with strips of remaining dough into a lattice work.
Brush with a beaten egg. Bake at 350 F for 15 to 20 minutes, until pie is golden brown.
Allow pie to cool, then serve at room temperature.