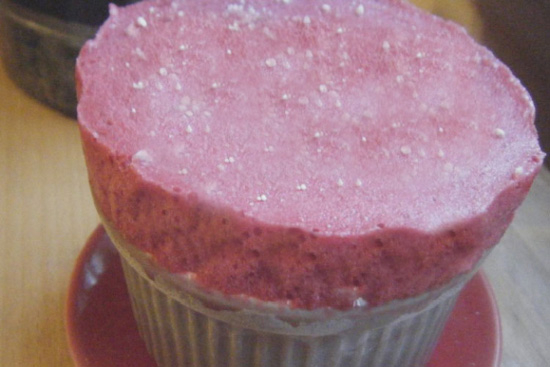 20

12 minutes
Ingredients
4 10-ounce packages frozen raspberries
3 envelopes unflavored gelatin
12 large eggs
3/4 teaspoon cream of tartar
1/2 cup sugar
3 cups heavy cream
1/2 cup sugar
3 cups hazelnut praline paste
2 1/2 cups Frangelico sauce (recipe follows)

FRANGELICO SAUCE:
1 cup sugar
6 ounces unsweetened chocolate
1 cup light cream
1/2 cup Frangelico (a hazelnut flavored liqueur)
Preparation
Prepare the soufflé dishes:
Fit each of two 1 1/4 quart soufflé dishes with a 6 inch wide band of wax paper to form a collar extending 3 inches above the rim.
Puree raspberries with syrup and strain to remove seeds. Dissolve gelatin in 1/3 cup water.
Beat egg yolks with a cup raspberry puree over a double boiler until thick. Heat gelatin to melt and stir in egg yolk mix. Add remaining raspberry puree. Beat egg whites with cream of tartar to soft peaks. Beat cream until stiff. Fold in raspberry mix the egg whites and cream and praline.
Spoon mousse into soufflé molds. Chill covered for 3 hours. Garnish top with whipped cream. Serve with Frangelico sauce.
FRANGELICO SAUCE:

In a heavy saucepan combine sugar and water. Bring mixture to a boil until sugar is dissolved. Remove pan from heat. Stir in the chocolate until sauce is smooth. Mix in light cream and Frangelico, and allow the sauce to cool at room temperature.