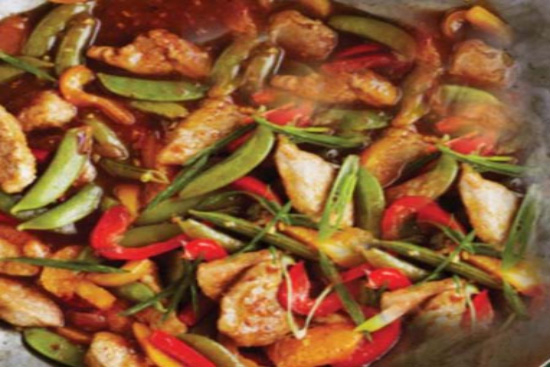 6

20 minutes
Ingredients
2 carrots
8 slices peeled ginger, 1/8-inch thick
1/2 pound snow peas
2 scallions
2 pounds pork tenderloin
1/3 cup peanut oil
4 cloves garlic, chopped
2 tablespoons red wine (pinot noir or Burgundy wine)
1/4 cup soy sauce
Preparation
Cut the carrots into julienne strips. Blanch in salted boiling water until barely tender. Drain and set aside.
Cut 8 slices of ginger on the diagonal, then cut into julienne strips. Snap off the stems from the snow peas and remove the string.
Chop the scallions including some of the green top. Cut the pork into thin slices and then into 1/4 inch strips. Stir-fry.
Heat the oil in a frying pan over high heat. Add the pork and stir while cooking. After 1 minute, add the blanched carrots, the snow peas, and the ginger. Stir and cook for 5 minutes. Add the scallions and the garlic and then the wine and the soy sauce.
Simmer for 5 minutes.