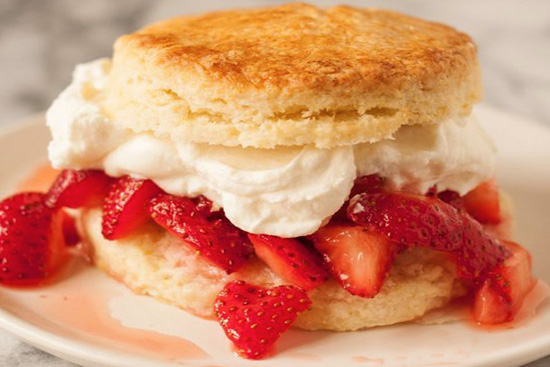 10

35 minutes
Ingredients
For compote:
3 1-pint baskets strawberries, hulled, washed
3/4 cup sugar
1 cinnamon stick

For shortcakes:
2 3/4 cups flour
1 1/4 sticks unsalted butter, cut into pieces
1/4 cup sugar
2 teaspoons minced orange peel
1 teaspoon baking powder
1 teaspoon salt
3 cups whipping cream
Preparation
Compote:
Slice berries; combine in a medium saucepan with sugar and cinnamon. Cook over medium heat for about 15 minutes or until compote thickens, stirring occasionally. Cool.
Shortcakes:
Preheat oven to 350 degrees. Blend first 6 ingredients in a food processor until mixture resembles coarse meal. Add 1 cup cream and process until evenly moist. Transfer to a large bowl. Add 1/4 cup cream.
Knead gently until dough forms. Roll out dough on floured surface to a thickness of 3/4 inch. Use 2-inch round cutter to cut out dough. Gather dough. Roll and cut more to make 20. Place on heavy baking sheet. Brush top with 1/4 cup cream. Sprinkle with additional sugar. Bake until brown about 35 minutes.
Whip remaining 1 1/2 cups cream to firm peaks.
Spoon 1/3 cup compote in shallow plates. Cut shortcakes horizontally in half. Arrange two shortcake bottoms on each plate. Spoon dollop of cream on each bottom half. Press tops over.